WANT TO CONTRIBUTE?
We always welcome contribution from anyone. Let's help the Ummah together!
WANT TO CONTRIBUTE?
We always welcome contribution from anyone. Let's help the Ummah together!

Bank : Maybank
Account name : YAYASAN AL-KHAIRIAH
Account no. : 553104212136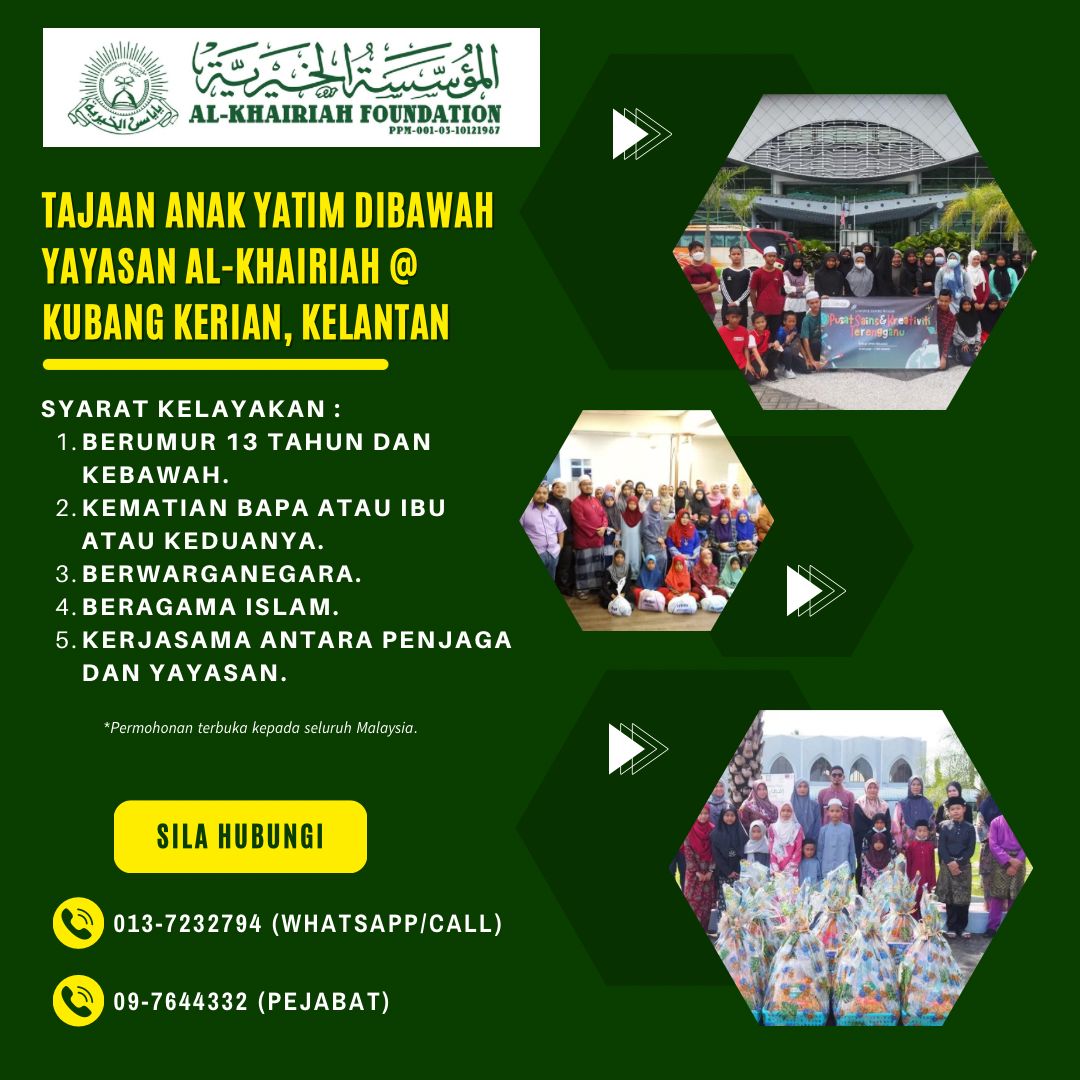 ORPHAN APPLICATION FOR 2024
We are pleased to inform you that the Al-Khairiah Foundation is providing an opportunity for the public to register their orphaned children as beneficiaries of the foundation.
QUALIFICATION CRITERIA:
• Age 13 years and below in the year 2024.
• Deceased father or mother or both.
• Malaysian citizen.
• Muslim.
• Give full Cooperation between guardians and the foundation.
Terms and conditions apply.
For registration, please contact:
013-7232794 (whatsapp/call)
09-7644332 (office)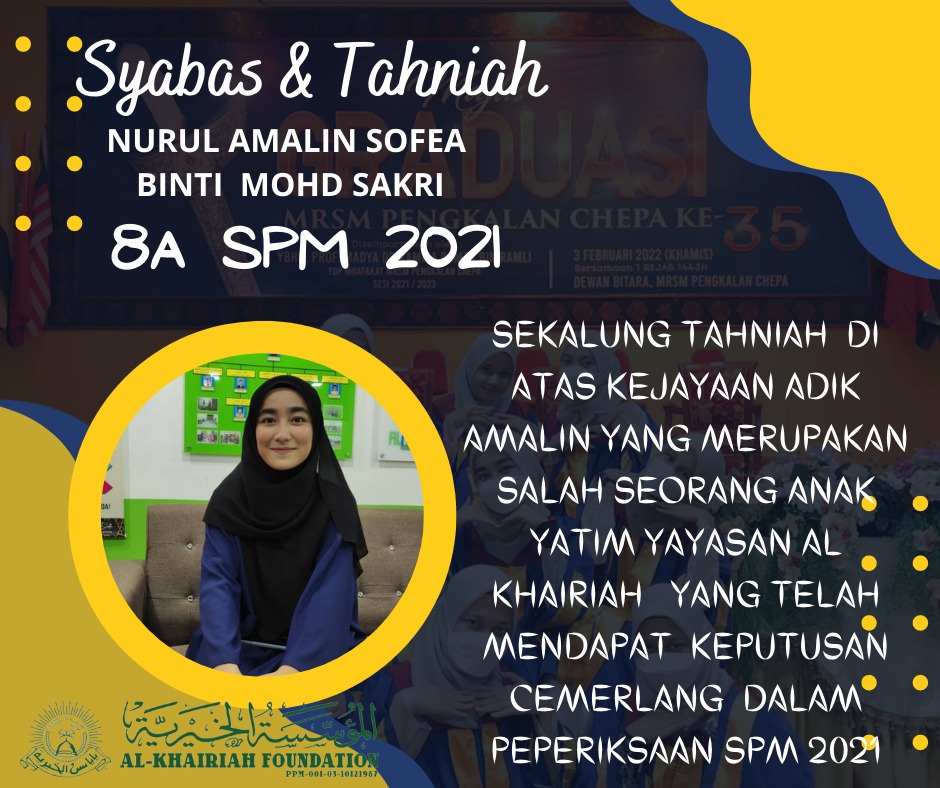 NURUL AMALIN SOFEA BINTI MOHD SAKRI is one of the foundation's orphans who has achieved excellent excellent results (8A) in the SPM 2021.Amalin has been a YAK orphan since she was 7 years old.
Amalin got an offer to continue his studies at Kelantan Matriculation College majoring in Science. YAK has delivered a donation of RM 1000 to Amalin's sister for the admission process to Matriculation College.
YAK hopes that Amalin will be a role model to other orphans.
CONGRATULATIONS!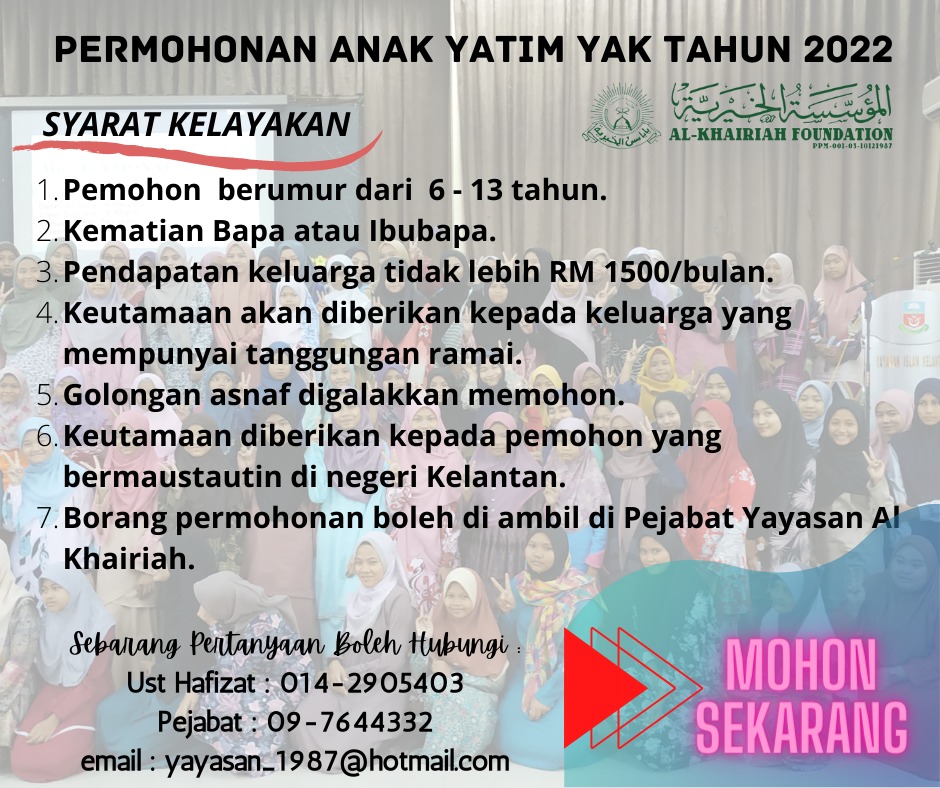 ORPHAN APPLICATION FOR 2022
YAK intends to help more orphans belonging to the asnaf. We hereby open a new application for eligible.
We are also looking for as many contributors as possible to provide monthly assistance to orphans applying. To friends who wish to contribute in helping orphans can contact the office for more information.
The contribution of all parties is greatly expected to realize the dreams and aspirations of orphans especially in education.
Applications are open throughout the year .Application forms are available at the Al Khairiah Foundation office. Please include a passport-sized photograph, copy of birth certificate/mykids , father's death certificate or parent's death certificate & guardian's ID card.
Banquet Table Contibution
June 17,at Al Mukminin Mosque,Seri Cemerlang , Al Khairiah Foundation handed over 14 banquet table measuring 4×6 feet.A banquet table is required by the mosque for use as place for seminars, meetings and Fardhu Ain Class studies for children and adult. From the information we obtained,the mosque committee has rented a house nearby as a management office for the mosque.
In addition, the mosque also provide electrostatic treatment service for people who want to treat neorological problem for free. Hopefully with this contribution, we hope all the community will be able to used the facilities.
Laundry Detergent from Al Hafiz Trading
Alhamdulillah, Al Khairiah Foundation has distributed laundry detergent to asnaf donated by Al Hafiz Trading.
Al Hafiz Trading is a Bumiputera Muslim company that provides the laundry detergent for daily use and laundromat.
Al Hafiz Trading almost 20 years involved in this business. It's also indirectly created employment opportunities and profits that should be shared with the community.
On the basis, Al Hafiz Trading has chosen YAK to contribute the laundry detergent to needy. Every months,Al Hafiz Trading has supplied 50 barrel laundry detergent to distribute.
Thank you to Al Hafiz Trading who entrusted us to distribute the laundry detergent for asnaf around Kubang Kerian and Kota Bharu.
Alhamdulillah,a total of 31 cows were allocated to implement for qurban programme this year. Each YAK mosque receives a cow to be distributed to the needy and poor.Sed perspiciatis unde omnis natus totam sit voluptatem audantium. Sed perspiciatis unde omnis natus...
read more
Helping Ummah Through Charity Work
Al-Khairiah Foundation was founded in 1987 for the main purpose to help less fortunate brothers and sisters in Islam. 
Visit & 'Like' Al-Khairiah Foundation FB Page
Don't forget to 'Like' and 'Share' our FB page to get latest updates from us.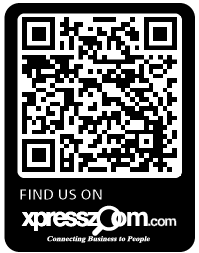 For questions or inquiries, don't hesitate to contact us.
LOT 393, PANGSAPURI KENALI, JALAN RAJA PEREMPUAN ZAINAB 2, 16150 KUBANG KERIAN, KOTA BHARU, KELANTAN.